As any reader who finds themselves online knows, a good giveaway is only a click away. Much like the public lottery, you have to be in it to win it but the lack of return on your time investment can make one reluctant to keep those entries going.
However, when you do win, the joys can be bountiful indeed. At the moment, I just started reading the newest Paula McLain novel,
Love and Ruin
, thanks to being one of the ten lucky folks at
First Look Book Club
that won a copy the other week.
This book is a companion of sorts to McLain's surprise success,The Paris Wife, by looking at another wife of acclaimed author Ernest Hemingway. The focus here is on Martha Gellhorn, a journalist and writer in her own right who met Hemingway while he was still married to his second wife,Pauline.
Martha was determined not to get involved with him but they ran into each other while covering the Spanish Civil War and their shared literary passion turned into something more. Despite her deep feelings for Ernest, Martha did her best to remain an independent person, even to the point of making her own choices about the future of their relationship.
I've always found Gellhorn to be the most intriguing of the Hemingway wives,due to her writing prowess and strength of spirit,which makes me thrilled to have a novel devoted to her to enjoy. The Paris Wife inspired me to do a whole year of reading Hemingway, so let's see what this book will bring out in me:
Meanwhile, I have back-to-back Early Reviewer books on my TBR, courtesy of
Library Thing
and their monthly drawings.
First up is
You Think It, I'll Say It,
a collection of short stories by novelist Curtis Sittenfeld. Her set of ten tales touch on contemporary topics such as the last major political election but the emotions that her characters deal with are timeless struggles.
For example, the leading lady of "The World has Many Butterflies" discovers that her partner in mockery of their social set is not on the same page as her while "The Prairie Wife" considers revealing a secret that could damage the career of a former love from her teen years. A storm of resentment builds up to a head in "Volunteers are Shining Stars" as a woman who helps out at a local shelter grows to hate the newest volunteer for her upbeat ways.
I'm familiar with Sittenfeld's work and do like her brisk tone and insightful nature towards her characters, so checking out her short stories should be fun. Reese Witherspoon chose this book as her May reading selection, which is another good sign. I really don't do the whole celebrity book club deal but Witherspoon does have really great instincts when it comes to picking a fine read there: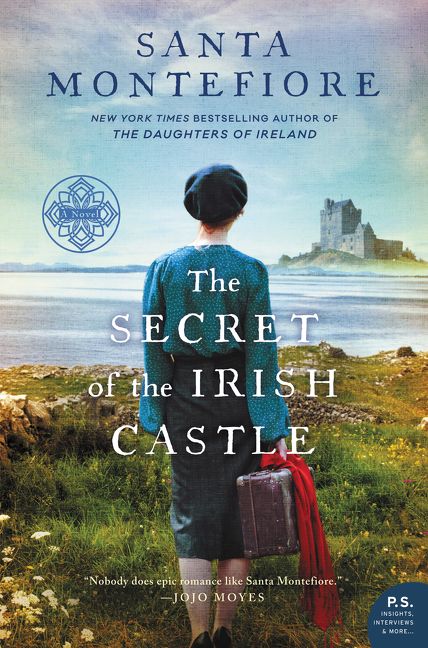 The other book is by an author whom I've never read before but have heard good things about.
The Secret of the Irish Castle
by Santa Montefiore is actually the third in a trilogy called the Deverill Chronicles and takes place in Dublin of 1939.
The plot follows three women, all of which are connected to the Deverill family, some in unexpected ways. Martha arrives from America to find her biological mother and winds up falling for the dashing JP Deverill, who happens to know all too well about her mother.
The current mistress of Castle Deverill, Birdie, aka Countess di Marcantonio, is determined to make this home and new social position a force to be reckoned with. Unfortunately, those efforts are undermined by the wandering eye of her husband Cesare. Meanwhile, Kitty Deverill appears content with her husband and children yet the reappearance of a former lover (who is in love with someone else) puts that familial bliss strongly to the test.
Granted, this being the third book in a series make it a bit daunting but I suspect that not reading the earlier titles won't be a problem(the original UK title of this one is The Last Secret of the Deverills, changed to appeal to a new audience,one would suppose). At any rate, this does sound like my cup of storytelling tea and taking a sip of this most recent brew ought to be fine indeed:
While you can't always rely on book giveaways to build up your TBR, they are great for providing those extra bookish bonuses to your reading list. At the very least, a book won this way does help you to save a little money from your book buying budget and allow you to dine on something more substantial than what's on sale at the supermarket. Page turning requires properly fed energy,after all!: